Our Cafe is open to the publics serving:
All Day Breakfast
Homemade Meals
Take Aways
Hot Drinks
Weekly Specials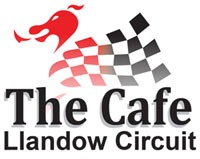 Our onsite Cafe is located at the entrance of the circuit and is open 7 days a week.
Opening Hours
7 days a week*
8:00am – 3:30pm
*Please note the cafe is closed on a Monday throughout January and February
Serving Refreshments as well as a full menu – all available to take away!
The current menu can be seen below:
SAMPLE MENU
ALL DAY BREAKFAST
Full Breakfast
2 sausages, 2 bacon strips, 2 hash browns, fried eggs, beans, mushrooms, black pudding and toast. With a tea or coffee refill
Small Breakfast
1 sausage, 1 bacon strip, hash brown, fried egg, beans, toast and a tea or coffee
Breakfast Baguette
Sausage, bacon and egg
Bacon Roll
Sausage Roll
Bacon and Sausage Roll
Bacon and Egg Roll
MAIN MEALS
Ham Double
With 2 eggs and chips
Chilli Con Carne
With rice and chips
Pie of the week
Served with peas
Faggots
Served with mushy peas, mash and gravy
Ham Salad
Served with coleslaw, boiled eggs, beetroot and bread roll
Veggie Chilli
Served with rice and chips
SNACKS
Crisps
Chocolate
Joe's ice-cream tub
Kids meals
BAGUETTES
Baguette
Baguette with chips & salad
Ham salad,
Tuna mayonnaise and sweetcorn,
Cheese and pickle,
Chicken mayonnaise,
BLT
JACKET POTATOES
Served with salad and coleslaw and the following toppings:
Chilli con carne
Chicken curry
Beans and cheese
Chicken mayonnaise
BURGERS
Quarter Pounder
Beef burger with cheese
Chicken Burger
With lettuce and mayonnaise
Veggie Burger
With lettuce and mayonnaise
DRINKS
Cappuccino
Latte
Americano
Mocha
Tea
Hot Chocolate
Herbal Tea
FOR MORE INFORMATION
If you are hosting an event on the circuit, Cath can tailor a menu to suit your needs.
Get it touch to talk through your ideas and requirements.
Phone – 01446 794797
Email – atasteofclass@btinternet.com